Happy Australia Day! Ok, well Australia Day is really tomorrow but I wanted this pattern to be available a little early. These tiny paper Waratah flowers are really easy to make and you can do the earring set in under an hour. Plus, you probably have all the materials on hand! How cool is that?
Also mentioned at Craftster.org...
Approximate time for 2 earrings: up to 1 hour
Materials:
1 piece of office paper in your chosen colour, or 1 piece of decorative scrapbook paper cut to size (I used a plain piece of red copy paper. Dress up plain paper with a stamp or draw some squiggles)
2 x 5cm (1 inch) head pins, any metal
A pinch of seed beads to complement your paper colour ( I chose red)
2 x sequins, any colour you like (mine are pearl white)
earring findings of your choice - these earrings can also be attached to plain sleepers instead of earring hooks or studs
Tools:
craft knife, or scissors if you prefer
round nosed pliers to close the loops
desktop printer
Steps:
Start by
downloading the pattern
to your computer and print onto your paper.
1.
Cut out each piece and stack according to size. For each flower there will be 4 x extra large pieces, 2 x large pieces, 2 x medium pieces, 2 x small pieces and 2 x base pieces.
2.
Pierce a small hole in the centre of each piece using a craft knife or thumbtack.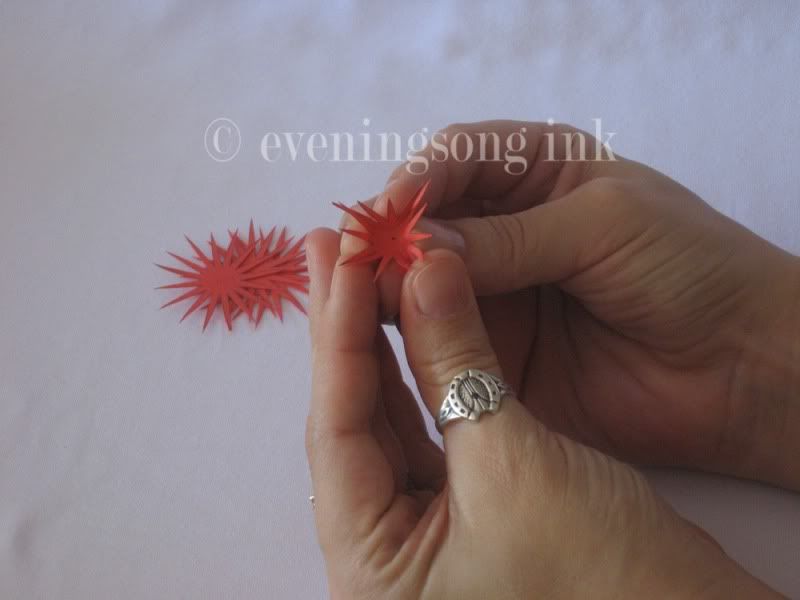 3.
Fold the flower petals up into a soft cone.
4.
Gently curl the points towards the centre.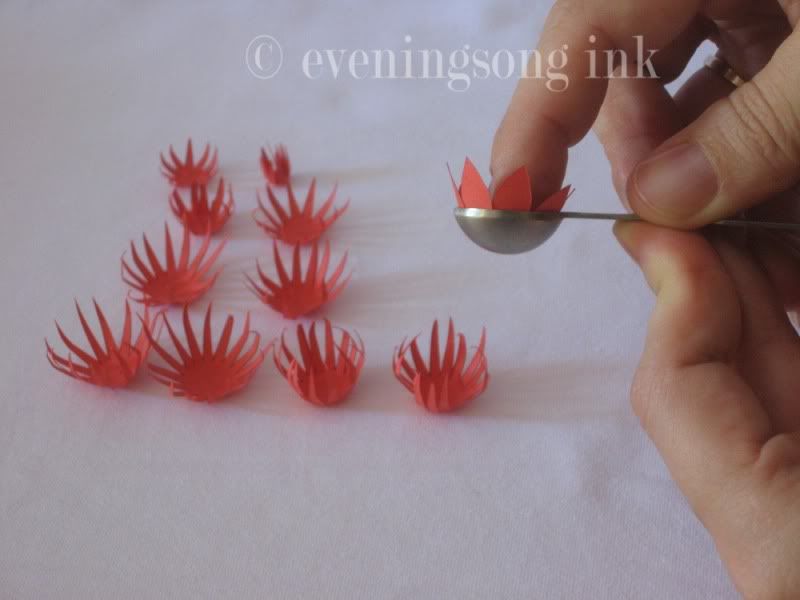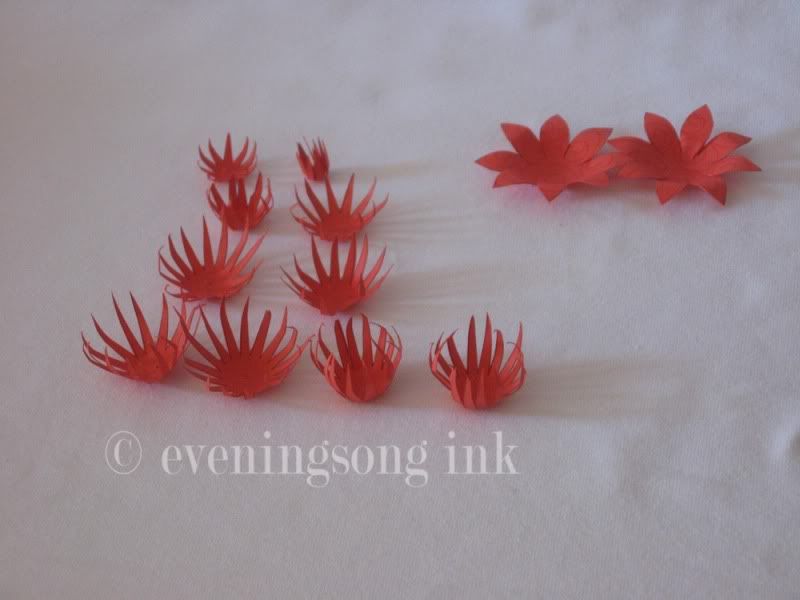 5.
Mould the base pieces into shallow bowls and curl the petals back. I used a half-sphere measuring spoon for this but your fingers will do fine.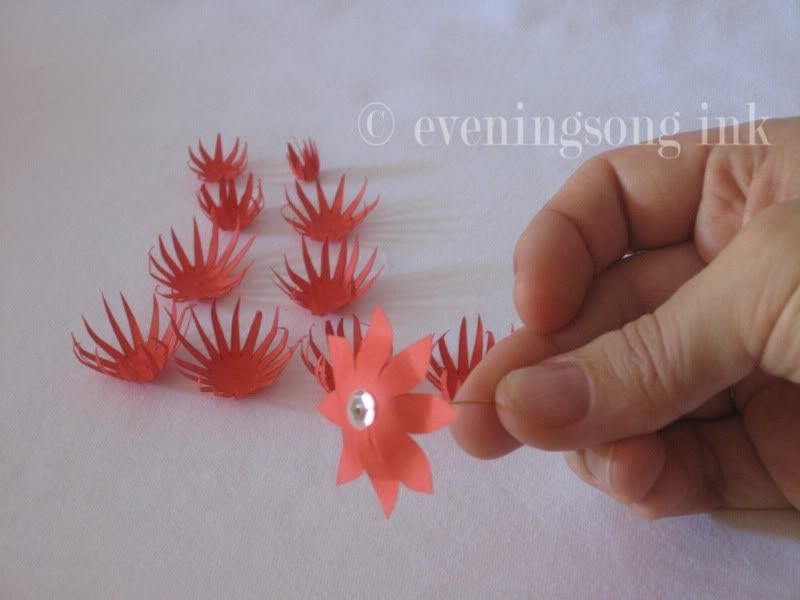 6.
Thread a sequin onto the head pin. Add a base piece, followed by a seed bead.
7
. Add the next base piece followed by a seed bead.
8
. Thread on one of the extra large petals, followed by a seed bead.
9
. Repeat this process, progressing down through the petal sizes.
10.
Thread the final small petal and follow with a seed bead.
11.
Push the flower gently to the base of the head pin. Grasp the petals, not the base pieces, and firmly mould the flower into a cone shape. Don't be shy here.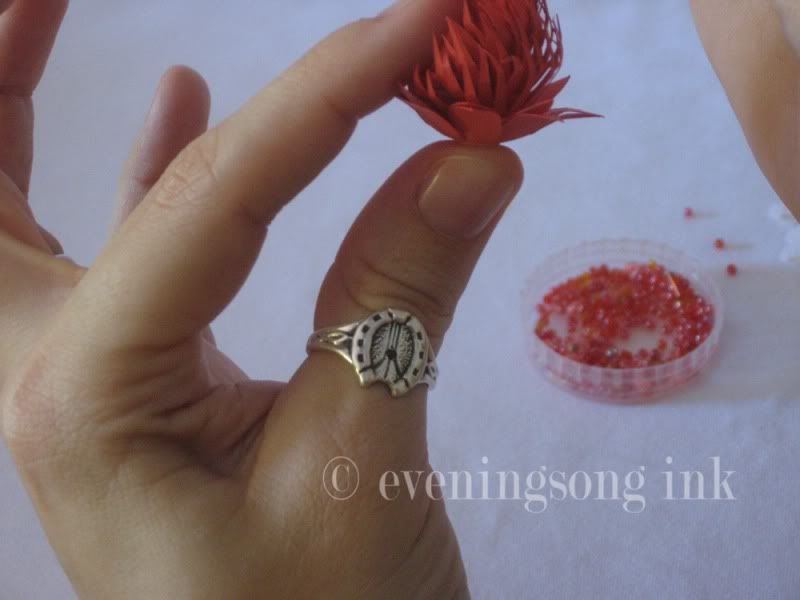 12.
Using an index finger, hold against the side of the flower and press downwards. This flares the base a little and makes for a fat-bottomed flower. Repeat all around the flower until it is even.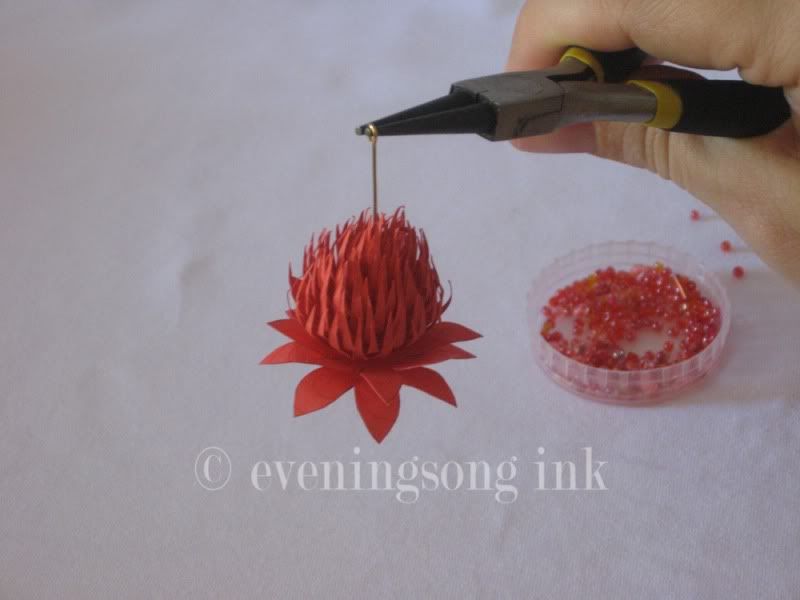 13.
Use your pliers and make an eye in the headpin. Secure to your earring findings.
NOTE:
You can also make a plain, upright flower. Thread the pieces from smallest to largest, followed by the base pieces. Secure with a crimp bead and give to a loved one.
If you make your own please let me know how they turn out!
Also, I do apologise for the copyrights on the pictures and the disclaimer on the pattern. I really do not mean to be rude or distrustful, but being the internet you never know when someone will swipe your tutorial and claim it as their own. This is purely to discourage unsavoury characters and to hopefully prevent others from profiting from my hard work without my permission.